About Withdrawal Process at Las Atlantis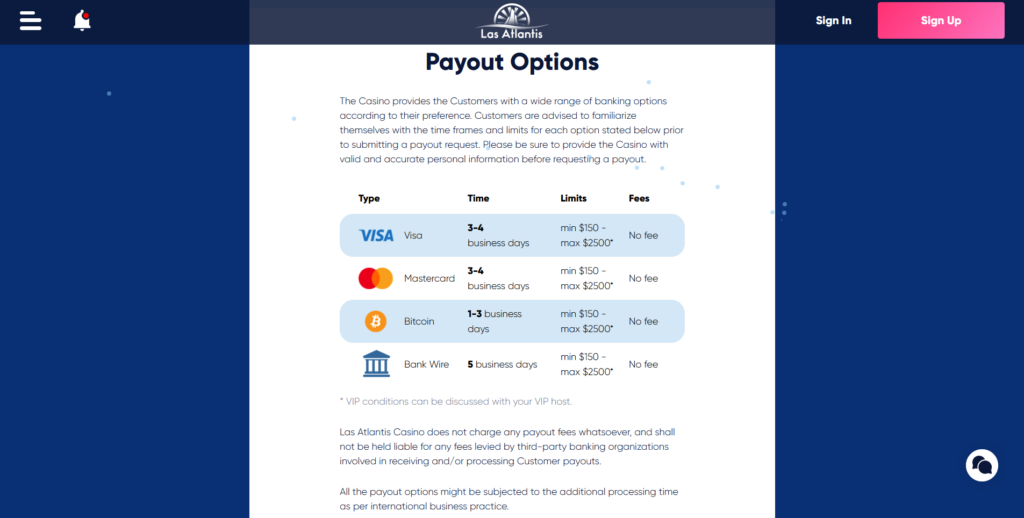 Las Atlantis Casino withdrawal options include Visa, MasterCard, Bank Wire, and Bitcoin, none of which charges a fee. Each of these options comes with different timelines, as explained herein.
Visa, MasterCard – using credit cards to get a withdrawal at Las Atlantis Casino is quite simple. Please note that you must meet the minimum withdrawal limit for a withdrawal before using this option. Withdrawals made via credit cards can reflect after 3 to 4 business days and has a maximum withdrawal limit of $2,500.
Bank Wire – This option takes 5 business days for the money to reflect in your account. Additionally, it has the same limitations as the former. Bank Wire transfer boasts as being one of the most secure withdrawal options.
Bitcoin – You have many advantages when you decide to use Bitcoin as a Las Atlantis Casino payout method. Not only do you benefit from increased anonymity, but you'll also get your money in 1-3 business days.
Go through the three available withdrawal methods and choose the most convenient for you. Some online gamers find it viable to have a mix of these options. Having decided on your preferred options, follow these steps to get your hard-earned funds:
Step 1: Log in to your Las Atlantis Casino account.
Step 2: Navigate to the Cashier section.
Step 3: Select the "Payout" option to get redirected to the withdrawal page.
Step 4: Choose your payment method, which can be Visa, MasterCard, Bitcoin, or Bank Wire.
Step 5: Fill in the required details and confirm. Wait for the designated time frame for funds to reflect.
A key point to remember is that your Las Atlantis Casino payout verification email must be correct, or else you will be unable to go through with the withdrawal.
What are the withdrawal limits when cashing out my winnings at Las Atlantis Casino?
Withdrawing limits via all payout options are the same – a minimum withdrawal limit is $150 and a maximum of $2,500 per week.
How long will it take for Las Atlantis Casino to process my withdrawals?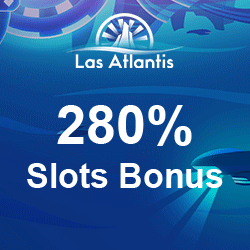 The time frame taken to process your withdrawal depends on the selected option. All withdrawals made in Bitcoin can reflect within 1-3 business days. The casino takes between 3 to 4 business days to process withdrawal requests via credit cards. Bank Wire transfers can take up to 5 business days.
Please keep in mind that Las Atlantis Casino follows strict security measures. Thus, you will have to go through the Las Atlantis Casino validation process when making a payout request.
Am I allowed to cancel a withdrawal request at Las Atlantis Casino?
You can cancel your withdrawal request to have the funds returned to the account up to the time when the process has not been finalized. Such a cancellation request should be carefully considered when using the Bitcoin option.
When is the best time to withdraw my winnings at Las Atlantis?
The best time to withdraw from Las Atlantis Casino is any time when you have made desired winnings.
However, you have nothing to worry about the safety of your funds because Las Atlantis Casino payout reviews are quite appealing. All players report that they were able to get their winnings whenever they needed it.